Whether you are an EI Coordinator/SC Supervisor ensuring your 14-day data looks good, or an SC working directly with families offering provider choice, you might struggle with the best way to meet those objectives and the needs of your system. As Service Coordinators, it is important that you support and facilitate family choice of providers. You should do this by informing the family that they have the option to choose their provider(s) from the statewide provider list. You will do this at the initial Individualized Family Service Plan (IFSP) meeting and whenever an IFSP team has determined a child requires additional service(s). You can offer the complete list in electronic form as a link to the statewide provider list as long as you also inform families that they can request a hard copy (PDF). You should provide the family with information related to providers' qualifications as well as their location and availability. Let them know if they do not indicate a choice of provider, a provider will be assigned to the child and family based on your referral procedure.
Our County's motto is to provide services with continuity and unity. ~ Kristi
What is the optimal referral procedure? Following are examples of the service referral process (when a family does not indicate a choice of provider) for four Infant Toddler EI Programs. The number of children served annually by the programs interviewed ranged from 475 to 6766 children. The basic underlying premise for each program:
The referral process should be equitable, efficient and ensure services are implemented within the 14-day service delivery requirement
To execute a consistent procedure when a service provider is not chosen by families.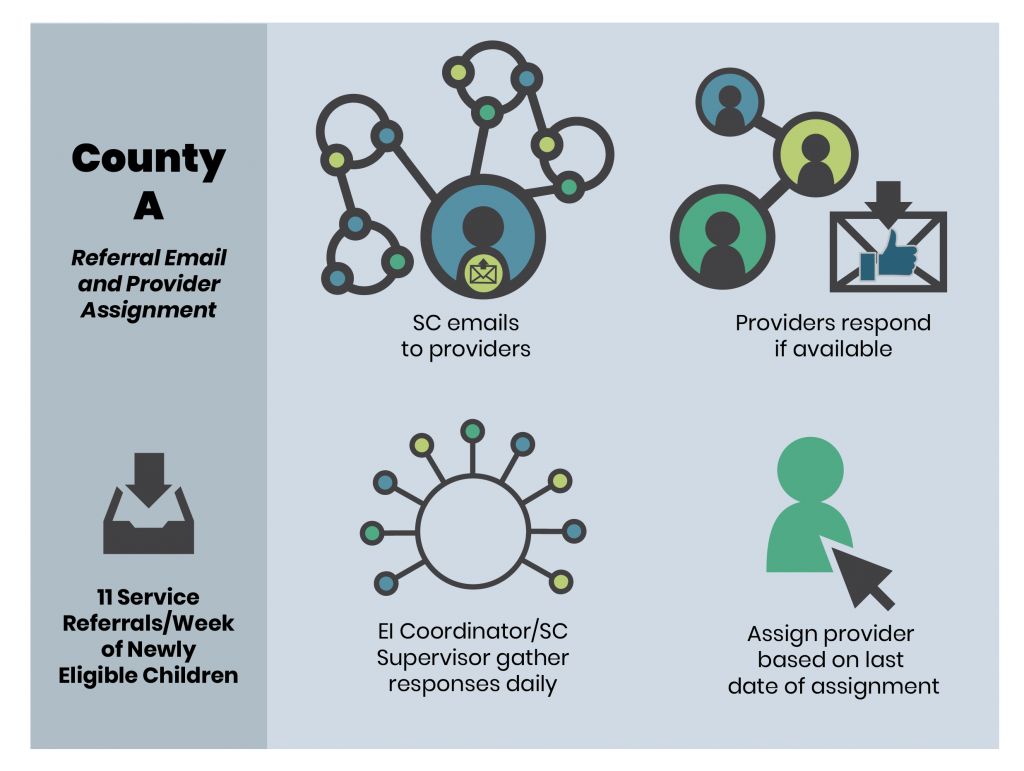 County A manages 11 service referrals per week for newly eligible children only.  The service coordinator initiates the service referral process for each child via email. The providers respond via email if they have availability. The EI Coordinator or SC Supervisor gathers the responses daily and assigns each provider, based upon the provider's most recent date of assignment. Not all providers request referrals every day.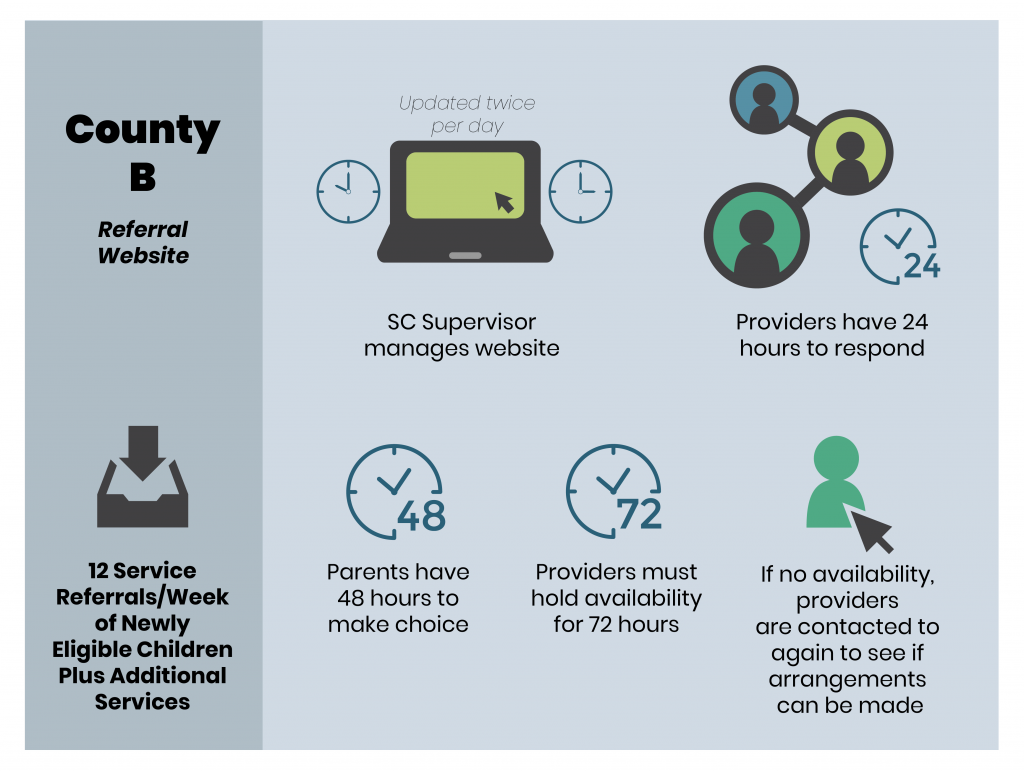 County B typically has 12 service referrals per week for newly eligible children or additional services and utilizes a website for providers when the family does not have a service provider preference. Responsibility for the site is managed by the EI Supervisor with data entry completed by support staff. The website is updated at 10:00 AM and 3:00 PM daily. Providers must respond within 24 hours of their availability, and the parents have 48 hours to make a choice. Providers are then required to hold their availability for 72 hours if needed, after which they may give their availability to another family. If none of the providers show availability, all providers are called to see what special arrangement they might make to serve a family.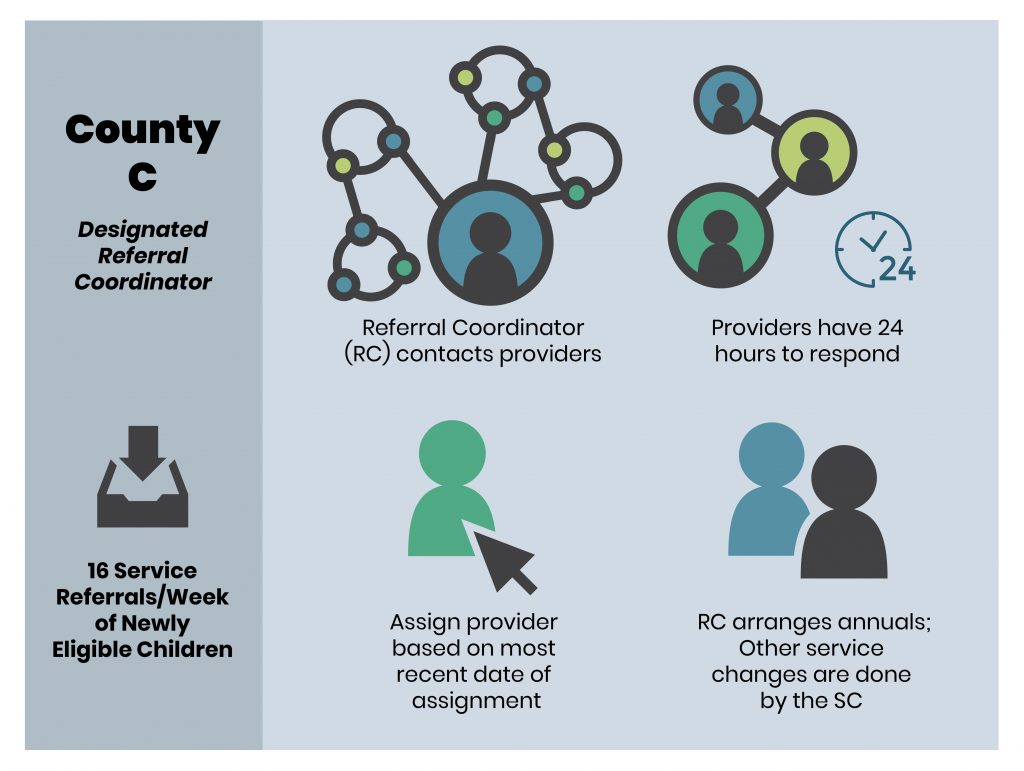 County C has on average 16 service referrals for newly eligible children per week and one referral coordinator (RC). The RC asks providers for their availability based on the child's IFSP and the ability to deliver the service within 14 days. The provider has 24 hours to respond. Of those available, the best fit is determined, and a provider is chosen. The RC arranges for service changes at the annual only and any other time, service changes are arranged by the service coordinator.
County D averages 122 referrals for services per week. This number includes both services for new children as well as additional services. County D utilizes an electronic system for all service referrals (when the family has a provider choice and when the family doesn't have a provider preference). This system has been in use since 2007 with one referral coordinator managing the process. Referrals are entered into the system daily, providers review referrals available. Each provider in order of preference tells the system which referrals they can take by 12:45 PM each day; the only change that can be made by a provider after that is to remove a referral. The order in which providers are assigned is alternated daily. If a first choice is not available, the system goes through provider's preferences until an assignment can be made or until there are no longer referrals to assign.
We try to continually look at other ways or ideas to better serve families while at the same time becoming more efficient. ~ Tammy
Each county agrees their provider referral process helps with meeting the 14-day service delivery requirement. Other advantages of their referral procedure include:
A more equitable referral process within their providers
An efficient method to help SC's spend more time supporting families with other matters, and
Referrals to providers are no longer negotiated by the SC's.
To ensure better quality to families we have embedded our service coordinators in the communities they all serve, as well as, describing them as Community SC's. ~ Amy